M1 Shaft
M1 Intermediate
Designed for school and club use. This shaft has the same stiffness as the M4 and M2 but a heavier weight increases durability without loss in performance. Glass/carbon shaft.
M1 Rowing Blades
Slick Rowing Blade
The Slick rowing blade is normally assembled with a 70mm hook. This provides enough load for the strongest crews but the asymmetric curvature of the blade makes it extremely clean in and out of the water. The blade can be reduced in size for women and schoolgirls.
The Slick rowing blade is available on all shafts. The Slick rowing blade is the latest CAD CAM computer generated design that supersedes all other blade shapes. The Slick blade is moulded with closed edges, which improves the blade's durability and overall performance.The Slick blade has no ridgeline so there is less splash at the catch.
The low volume blade enters the water quickly and quietly and floats low in the water. The longitudinal curvature is perpendicular to the tip and so is in line with the flow of water. It has a constant pitch across the tip and all lines parallel to the tip.The gentle asymmetric curvature of the blade assures a clean release from the water with every stroke. Slick blades are visibly cleaner than other blades. The Slick blade does not exhibit any negative tendencies during recovery or in bad weather. Since the Slick blades introduction it has been extremely successful at all levels of rowing.
Macon Rowing Blade
The Macon blades are the original blade design. The blade was first manufactured in timber. Although the Macon blade is not used in the racing world, recreational rowers prefer them and they are a good blade for learners. The Macon blade is available on all shafts upon request.
M1 Handles and Grips
Carbon Adjustable Handles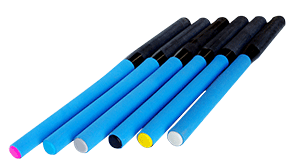 The carbon adjustable handle is available in 6 sizes (pink, blue, grey, black, yellow and white end caps).
These handles can also be fitted to our oars as a fixed length handle.
Rowing Grips
Our rowing handles come fitted with a selection of grips. Timber Veneer, Blue Rubber and Heat Shrink.